"And now these three remain: faith, hope and love. But the greatest of these is love." - 1 Corinthians 13:13
---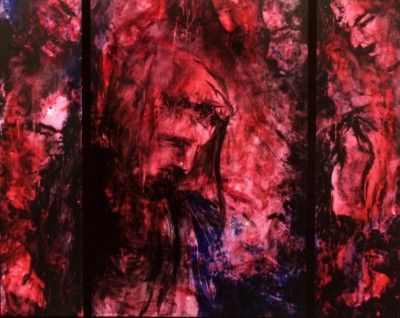 ---
As I sat listening to the bible reading for a wedding I played for recently, I was reminded of the passage above and the thought struck me.  "How much different would it be if 1 Corinthians 13:13 ended with, "the greatest of these is pity"?  Lately, I've been wrestling with a deep seeded thought that has been with me for as long as I can remember.  Somehow in my time as a child the phrases about my relationship to God that I remember most about me were the pretty harsh ones.  God's love seemed a lot more like pity than love and that's where it stopped for me, I just didn't realize it.

Perhaps I haven't lived long enough to put it into words correctly, but considering relationship with God through the lens of pity versus love is helping me understand some of what I have long wrestled with.  Love and Pity can be very close and yet very far apart.  I share a couple definitions to show the point.

LOVE (noun): 1. a profoundly tender, passionate affection for another person.  2. A feeling of warm personal 
ttachment or deep affection, as for a parent, child, or friend

LOVE (verb): 1. To have love or affection for.  2. To have a profoundly tender, passionate affection for (another person)

PITY (noun): sympathetic or kindly sorrow evoked by the suffering, distress, or misfortune of another, often leading one to give relief or aid or to show mercy.

PITY (verb): to feel pity or compassion for; be sorry for; commiserate with.  2. To have compassion; feel pity.

I have lived much of my life believing that I do not deserve to be called a child of God.  And that is true.  On my own, apart from God changing my heart through the story and truth of his faithfulness in his word and active heart surgery through baptism, I would have no relationship with God.  The cross, the empty tomb, Jesus payment for my sins, taking my place, my punishment, my death – all of this has changed my life and my eternity as he now, by Grace through faith, calls me a child.  And yet… I still grew up living out my identity as the sinner, the undeserving child, the one God saved from hell.  In other words – he came because Jesus pities me.  Seeing my lost conditions he was moved by a sympathetic or kindly sorrow evoked by my suffering to take my place.

 
And yet, compassion and pity alone are not what motivated the heart of God and pity is not what spurred Jesus on to give his crown, his glory, his life for you and me.  It was his LOVE!!  It was his profoundly tender, passionate affection for me!!  It wasn't that he just felt sorry for me, but that he had a deep affection for me, LOVE of a Father for his child.  God does not simply Pity you, he LOVES you.  It is why God himself says that his identity is LOVE and that the proof of his LOVE for us is the sacrifice of his son so that we could be called CHILDREN of God.  Objects not simply of his pity, but people defined by his LOVE!
So yes, God's compassion and pity saved you from Hell, Death and Satan, but it is his LOVE that saved you FOR RELATIONSHIP with God.  You and I do sin, but because of the LOVE of Christ he invites us to "remain in his love" by walking with him in his word.  He holds you and makes his love personal through Holy Communion and though we have sin to repent of, Jesus calls you a SAINT because of his love.  You are his Son, his Daughter! Jesus Christ did not sacrifice himself simply because he had pity on us, it is so much deeper.  The Cross shows us the depth of his LOVE for us, because he wanted you to have complete joy, to be fully human, to be fully alive and to walk in complete relationship with Jesus – for all time.  "Lift up your heads, O ye gates, be lifted up that the King of Glory may come in." Psalm 24
You Are Loved by God!