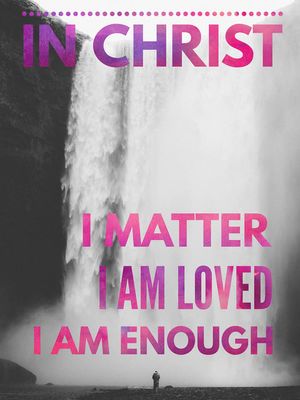 Last week, I was challenged as I delivered a chapel to our grade school kids at St. Paul's. The text was the passage above, and as I prepped for it, I remember back to my mom's challenges to me when I was a kid to "quit yer stinkin thinkin!" As I talked with the kids, I recounted the times stinkin' thinkin' comes into play when: 
We get a bad grade. 
We do bad in a sport. 
We get in trouble at home. 
A friend doesn't want to play with us. 
On the heels of events like these, come the voices that we are dumb; we're no good, we're selfish and worst perhaps, nobody loves us. I had a young child stand behind me and just keep tapping me on the head while I was talking to prove the point... and after a while I have to admit, it was hard to remember what I was talking about.
Well before I had my stinker thinker kid come up and help me, I asked the kids to say the words out loud on the picture above. That IN CHRIST, God reminds me that his death and resurrection paid my sin debt. That my baptism gave me a new name and status "child of God". That my God attached promises to that status, promises that won't be taken away. Ultimately, God gave me an eternal identity as his child, and God took on the role as my Savior, my Redeemer and ultimately as my heavenly Father. I Matter, I am Loved, I am Enough - because of Christ. 
So as the young child continued to hammer away at my head, I finally stood up, picked him up and took him to the cross. I held him up over my head and reminded him that my thoughts needed to be captured and redefined through the lens of the Cross of Christ and my identity in Jesus. (I had his dad's permission, just in case you're wondering). I put him down, I went and sat down on the stair, started to talking to the kids and... once again he returned to start smacking me on the head 
You know how this works in life. You know that those thoughts seem to have an innate ability to escape the capture to the cross only to lodge right back in our brain. Some of you might be looking for a practical way to do this so let me point you to one more place. 
Genesis 32 - Jacob, a bit of a liar and manipulator is coming face to face with his brother whom he swindled out of his inheritance. His brother is coming with 400 men. Jacob fears the worst, that Esau will destroy him and wipe out his family. It is into this very real fear for his safety and his future that Jacob sets for us an example on how to capture stinkin' thinkin' and make it obedient to Christ: 
"Then Jacob prayed, "O God of my father Abraham, God of my father Isaac, Lord, you who said to me, 'Go back to your country and your relatives, and I will make you prosper,' 10 I am unworthy of all the kindness and faithfulness you have shown your servant. I had only my staff when I crossed this Jordan, but now I have become two camps. 11 Save me, I pray, from the hand of my brother Esau, for I am afraid he will come and attack me, and also the mothers with their children. 12 But you have said, 'I will surely make you prosper and will make your descendants like the sand of the sea, which cannot be counted.'" 
When the thoughts and stories and fears come into our mind that we're not enough, that we can't be loved, that we don't matter, it's important that we do a few things. Vs 9-10 Jacob acknowledges his relationship to God and blessing he receives from God. 
Claim again the promise of your identity in Christ as his child. 
Confess your fear and your thoughts that stand in contrast to God's word (I Am Afraid). 
Remind God of the promises HE has made to you (But You Have Said). 
Name specific promises God has made to you regarding your reality (I Will Surely). And I'll add a number 5, because sometimes I can't remember all this and one of my favorite prayers of scripture is "I do believe - help my unbelief" - Mark 9:24 
When that pesky little bugger of a thought keeps distracting you and shouts lies and accusations contrary to what God as said about you, take it captive and make it obedient to Christ. Your situation certainly says something about the way you can handle things, where you need to repent, where you can find courage and where you can improve. But when it cuts down your identity remember that IN CHRIST - You Matter, You are Loved and You are Enough!