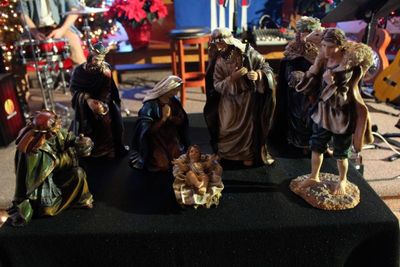 Christmas has a lot of meaning in our world, and it means different things for different people. There is the fun of the Christmas "spirit" with the giving and receiving of gifts, the childlike imagination of Santa Claus, the quiet and dark of the season where the stars shine so brightly on a cold night. And of course for the Christian, it is the celebration of promise fulfilled in the babe in Bethlehem, Jesus Christ.

Regardless of where you are on this spirit and spiritual spectrum, one thing that is probably most powerful for people around the globe is the importance of belonging and impact of family and of community. If you have or have had that strong sense of family and community, I praise God with you! I pray that family remains strong and moments filled with joy. I have come from one of those families, imperfect, but mine, and one that I have been grateful.

And yet this time of year is also one filled with quite a bit of stress, but probably more than that - loneliness.

My hunch is that loneliness at Christmas brings to many of us the illusion of perfection, one that just doesn't exist in families, even with the first one with Adam and Eve. There is regret for sins left unconfessed and unforgiven. There is the chair that now sits empty that was once filled with the love that we miss so dearly. There is the distance that separates loved ones and a nostalgia that we long for. And there is also the joy that comes that we so dearly enjoy and so desperately want to hold onto. For these and other reasons, Christmas is also a very lonely time of year for many people. And for some of us, we may wonder if anyone sees us.

This Christmas, as we've shared concerts talking about the characters and story of the Nativity, there is one idea that has been quietly growing in my heart and that is this. That baby in the manger is God almighty saying to you and to me "I SEE YOU"!

In the garden, God saw Adam and Eve in their nakedness, having broken relationship with God and with each other launching all mankind into a holy and spiritual deficit that we can't recover from on our own. But in that moment, God said effectively "I See You". He covered their nakedness and promised one to come that would crush the enemy.

In the Old Testament, God says to the captives in Babylon "I See You". Sin has carried you into captivity, but I will be with you and when the time has been completed I will restore you.

To the small of Bethlehem, God says "But you, Bethlehem Ephrathah, though you are small among the clans of Judah, out of you will come for me one who will be ruler over Israel, whose origins are from of old, from ancient times." - Though you are small, I SEE YOU, the restoration will come!

And in the manger of Bethlehem, the virgin gives birth to her first born, a son, calling him Emmanuel - that "God With Us" would save his people. God in human flesh cries out and in effect the voice of God now speaks "I See You".

In the Upper room Jesus will say "Take and Eat, Take and Drink" this is FOR YOU, because I see you. On the cross he will say "It is FINISHED" and in the Garden he will look at a broken believer who is desperate to find the body of her Lord and say to her "Mary".

For all of the lonely, the broken, and those who feel shattered, the manger in Bethlehem reminds you and me that God Sees YOU, God sees US! And as the angels sing and shout "GLORY" "GO and SEE", our hearts pound just a little harder. The edge of hard memories softens. Our social status no longer matters, what we've done and left undone stops for a moment for you and I to go and peer into the manger and see God staring back at you and me... "I SEE YOU"

Yes, it is good to wait quietly for the Salvation of our Lord!

May you have a full and Merry Christmas! God Sees You, You are not alone!