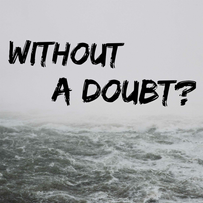 The topic of doubt is a big one in the lives of Christ "But how can I trust you?" Says the parent to the teenager that had the car out past curfew with no call and no answer? "But how can I trust you now?" Says one spouse to another in the midst of a lie discovered? "But how can I trust you now?" Says a friend to a former when the gossip reaches their ears? "But how can I trust you?" Says the Christian to God when circumstances go beyond the sight of faith.

The topic of doubt is a big one in the lives of Christians and is of significant importance in the lives of young adults in particular. For many of us, doubts are like germs. We wash our hands to make sure we don't get those little germs on us. We use anti-bacterial everything to make sure we kill off the latest thing going around the office. We get flu shots to make sure we don't get the strain this year. As a society, we tend to fear germs.

And aren't doubts, when it comes to matters of faith, viewed much the same way? When we have doubts, we open ourselves up to a sickness of thinking. We open ourselves up to lies from the enemy, our defenses are down, we take actions, we think thoughts, and we follow lines of thought that can lead us to dangerous places. Oh if only we could keep that simple and strong childlike faith "Jesus loves me this I know, for the Bible tells me so".

As we transition from an adolescent understanding of the Gospel to what Jesus called "Life to the Full", it's a lot harder to simply trust Jesus love simply because the Bible and my 6th grade faith says so. "How can a loving God allow..." (insert doubt). "I'm obedient, why am I suffering" (insert doubt). "I believed and so many prayed, so why didn't God save..." (insert doubt). The doubts we have often challenge our view of God and we find it hard to trust as the child we once were. The strength of that simple beautiful childlike faith vanishes as our hopes seemed to be bigger than the promises God could deliver. And then we hear him say "you of little faith, why are you so afraid." Translate - why do you doubt me?

The disciples fear for their lives, they proclaim their doubts, they exclaim with an amount of certainty that they are going to die, and they need him to save. Do you notice God didn't rebuke the wind and waves at once? He didn't speak first to the problems and the turmoil, he spoke first to the disciples - he speaks first to the doubts in you and me. "TRUST ME, I make even the storms of life, and even your doubts serve my design to help you see me more clearly and to understand the true mission of Life to the Full".

Most germs are actually good for us. Without them, our immune system cannot handle the increasing risks that future germs carry. We get a little sick; the body learns how to defeat the germ and builds in an immunity to help us in the future. Because we live in a sinful world, our faith is something that will grow only when it's stretched and worked, sort of like a muscle, or better yet an immune system. As God leads us into valleys, we ask the hard questions, we experience uncertainty and often in fear, we honestly confess and express our doubts. And you know what? God is not afraid of your doubts.He's heard them all before, and he asks us to look deeper into Grace, trust more of our life to him, and let him help us see beyond the temporary sufferings with a faith that sees when all the lights go out.

God knows a growing faith will have doubts, and while some germs can overwhelm the body, he knows some doubts can overwhelm our faith. This is why walking together with other Christians, built on the foundation of the truth of Scripture and the promises of God found in the Bible is so important. Sometimes germs make us so sick we need help. Sometimes doubts can so overwhelm our faith that we need help. It's why staying close to God's word and God's people are so important. Because in the doubt, is a bigger perspective of God's Grace, plan and purpose.

Most Christians want to have the maturity of faith that can stand on the promises of God and say "I have faith without a doubt". Don't be surprised that, if we ever get there, our adult faith can't grow to that confidence without God walking us through MANY doubts. I don't know that we can actually have a strong faith... without acknowledging our doubts and processing them through God's word and the ultimate story of his eternal Grace for us.

My prayer? Admit our doubts. Stay in the word. Let God open up the deeper truths, the fuller connections to the story of God and what this life is really for. Your doubts, treated by God's word and the accountability of Christian mentors, can be what God uses to grow us from that childlike faith, through the questioning that comes as faith develops deeper roots, to one of a mature Christian. A Christian confident to not only stand in the storm, but to then take the light of the Gospel into the darkness before you with boldness. - God be with you this month!